André Sahm
You are our great role model and always will be.
We sorely miss your unspeakably big heart, your open ear for our every problem and your wise advice. We would have needed some more of that.
There was no one with whom you could make so much nonsense one moment and talk so profoundly about everything the next.
Your work, your faith and your charisma positively influenced and changed so many people around you. We can only be grateful that we were lucky enough to have been on this earth at the same time as you.
Your influence on us, your family, your beloved wife, your friends, your community and your whole environment will remain beyond all time.
Dear Andi, we miss you very much.
Für Andi
My Brother
My best friend
Hey Andi,
I would have preferred to give you parts of this letter in person earlier, but something came up for you. Most of the things in this letter you would never have claimed about yourself - because you were so modest.
All I can think of at your farewell is:

Too soon
Sudden
Unfair
Unprepared
But for your life and your character, I think of so much more:
Compassionate
Positive
Loyal
Kind
Empathetic
Role model
Diverse
Humorous (not too short)
Trustworthy
Intelligent
Prudent
Impressive
Profound
Big heart
The Big Heart
Your big heart beat for nature, but above all for the water, the sea, and all life within it. For many, many years. After a formative diving experience with your wife Mathea, you had a huge ray tattooed on your leg. Snorkeling and diving, and the associated discovery of the underwater world, deeply impressed you.
The shark was your favorite animal, we knew that. You could tell everything about it, defend it because it is such an intelligent, sensitive creature - and you always said, "The only problem with a shark is that it doesn't have arms - it has to handle everything with its teeth."
Your goal was to dive with sharks once in your life, and you were clear - it can only be done with freediving because the sensitive animals are frightened by all other diving methods. It was also clear that you wouldn't just go to the aquarium.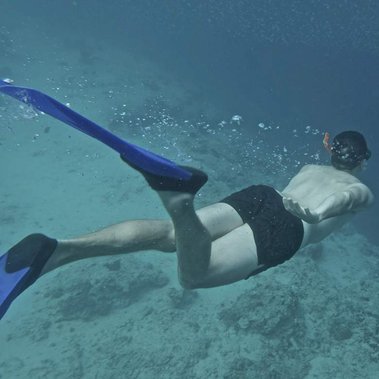 I have to confess to you, after the first and second shock and the subsequent bitter grief, there was a moment of misunderstanding and yes, even anger. I didn't understand why you did diving training alone, didn't understand why you underestimated the danger, it just didn't fit my image. I knew you were an extreme athlete and knew the elements and dangers you were exposed to.
When the news from the doctors came afterwards, the misunderstanding was gone immediately.Cause of death: Too big heart.
Your heart was simply too big - not just physically. It could have happened undetected later, regardless of the stress, no one could have known.
You were healthy, lived very healthily, knew about all your vital functions, and always measured them. You knew so much about your body, which injuries or pains were related to what, how to react to them, and you enthusiastically told your wife about all the connections. You knew your stuff really well. No one could have guessed that your too-big heart would be the problem someday.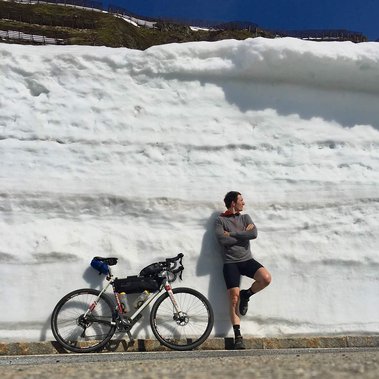 Your passion was extreme sports. Extreme challenges, over 900km bike ride alone to the Alps, in 5 days. There were more such rides, and the fear that something might happen was always present for me. But you also knew about the dangers and could explain and assess them prudently beforehand. The extreme challenges made you so happy that any misunderstanding by me or your environment was erased. Rightly so. You have mastered incredible challenges and often left me speechless. I don't know anyone who has made the most of the day and life.
When you sent me a photo of your bike ride at 5 a.m., not only the photo but also the fact that you had just finished your tour at that time impressed me beyond measure.
Your big heart is probably what comes to mind first for everyone who knows you when your name is mentioned.
Just as extremely as you lived out your sport, you also sought extremes in other areas. In friendships, in interpersonal relationships, in responsibility. You loved extremely. I felt it, your entire family felt it, your beloved wife, your friends, and your entire environment felt it every day - in all things.You always had an open ear for everything and everyone. You never spoke ill of others. You responded empathetically to difficult situations, you could immediately sense emotions as soon as you entered the room and reacted accordingly - always for the benefit of others.
Your way of providing comfort, changing perspectives, and giving advice was unique.In addition, you were able to inspire, motivate and captivate others for everything - be it in your community, the Jesus Freaks, where you were the chairman, with your cycling group or with your four siblings, the chaos crew.
You often put yourself last, treating guests like kings and queens - I don't know anyone who didn't immediately feel comfortable and cared for at your home. As soon as you sat down on the sofa, you had the perfectly mixed cocktail (most recently London Mule) in your hand, and in front of you were all kinds of cheeses from Switzerland, chocolate from Belgium, and salami from the nearest organic farm.
You also loved indulgence, and we could talk and discuss a lot about it - whether in terms of audiophile records, the best headphones, or wine, gin, and other spirits.
A few weeks ago, you sent me pictures of a restaurant visit in Heidelberg with Mathea, with the comment, "Had snails for the first time today" - my only thought was, "Well, you can do that."
Your cooking skills are unmatched for me and many others, as even here you were never satisfied with little. It had to be the best ingredients, your perfectly planned and constructed garden had everything you needed, and your own sheep, quails, and chickens made your idea of your own farm more and more real.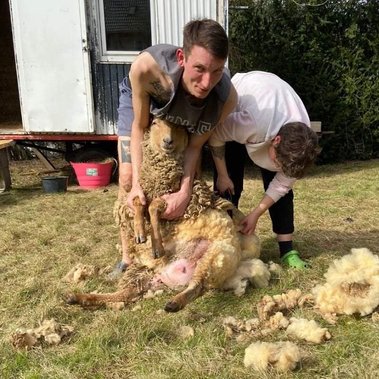 Your heart was so big that your declared goal was to someday build a sanctuary - a farm that takes in all animals with any suffering and life story, until the end. This idea is not over but will be carried on by your beloved wife Mathea someday. Don't worry, the attic will also be finished, I promise.
4 Big Hearts
Your 4 siblings are incredibly proud of you and incredibly grateful that we got to have you as our big and little brother. For all of us, you are the anchor and role model in our chaos crew. The loss hurts terribly, and the missing will be even worse. Now we have no one left to beautify poorly made election campaign posters with at night, no one left to create Nutella-cheese-mustard sandwiches with, and no one left to say "Cool Beans" 20 times in a row.
But what remains is a gratitude for everything that I cannot describe in words.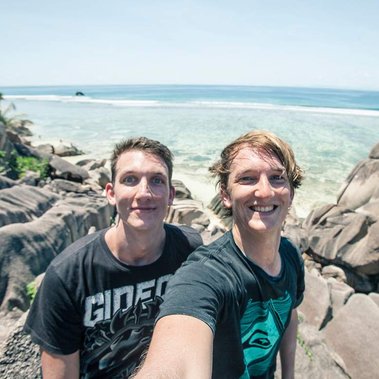 I am so grateful for every trip we took, even if they seemed irrational. Like when we were in our early 20s and just booked tickets to India, South Africa, and the Seychelles - because we said that's something people usually do at 50, but we're doing it now.
The volcano we climbed in Guadeloupe, the descents we made in the Alps, the racing bike expeditions in Mallorca, and the hurricane we experienced on the beach. The trips were even better with you - because I was often too afraid, but you would come around the corner and say, "we have to go a little further, I think it gets even more beautiful back there" - and it did become more beautiful. When we were together, I had no fear, because I always thought, "my little, big brother will take care of me." And you did - when I once had a third-degree sunburn, you built a sunshade for me at the beach from leaves and branches. Only later did I realize that your sunburn was just as bad.
When the terrible Russian attack war broke out in Ukraine in February, I asked you a week later if you would come with me and a relief convoy to the Ukrainian border region to deliver aid and pick up a family along the border. You immediately said yes. Together, we drove nearly 3000km in 36 hours with one hour of sleep in a parking lot - most of it you drove because I couldn't go on. You always wanted to help, that's what your big heart was all about. In this situation, too, we realized once again how fragile life on this earth is.
We often talked about death, not only because it was also part of your job. We both had and have no fear of death, and you knew that if you were to die one day, it would happen while doing something you enjoyed, something that fulfilled you. It was clear that you most likely wouldn't choke on a peanut. I knew that, Mathea knew that, everyone knew that. Nevertheless, I wish you could have stayed longer. But we both knew we had no control over it. We had watched too many documentaries about expeditions, extreme sports, and the world. It happens when it happens.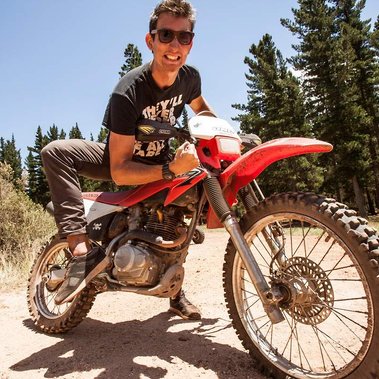 Your departure from this world somehow feels like a final, big project to me - "I'm gone for now, but you have each other, and now take my completely excess energy that wouldn't have been enough for 100 years and share it among you. Try to live only half as intensely as I did, love only half as intensely, and care only half as much for your fellow human beings, and the world around you would already be immeasurably better."
I am infinitely grateful for everything - I will try, thanks to your motivation and your example, to accept life and each individual day as a gift, to enjoy, try to love as you did, and to be aware of the finiteness of life on Earth. You are the best little big brother one can imagine, the best friend - you are the best person I know.
Because you always said this:
So - see you soon.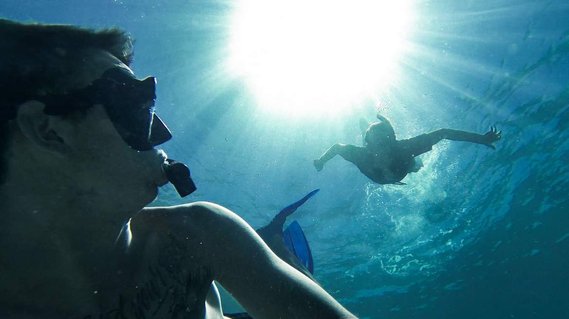 Thoughts
Andi knew that every day is precious. Extremely precious. We have no entitlement to another day on this Earth - every day we experience is like a bonus.
The bad and the good days. Only our perspective has an impact on the present.
Every activity, everything we do, every kiss, every vacation, every car ride, every touch, every word - everything could always be the last time. Please don't wait with loving words that you want to tell someone, a trip you absolutely want to experience, a project you want to implement, or a dispute that needs reconciliation.
Andi knew this, and that's how he lived.
Condolences
Your thoughts, memories, and words are well-kept in the contact box or can be sent via email:
Letters, cards, and other expressions of sympathy can be sent to the following address:
Mathea Sahm
Hubertusstraße 18
57299 Burbach
In lieu of flowers
For lovingly intended contributions, the following bank account connections are available:
PayPal:
sahm.andi@googlemail.com
Konto:
Mathea Sahm
IBAN: DE66500105175418330834